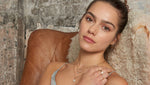 Into the Blue Collection Launch
Spring/Summer Collection Featuring Vibrant Turquoise-Coloured Stones
As the spring/summer season approaches, we couldn't be more excited to introduce our brand-new Into The Blue collection. A collection perfect for the season ahead and beyond, it's inspired by the 'tropical island' trend on the runways, incorporating flashes of vibrant turquoise-coloured stones for a truly special look. 
Designed for everyday wear, the Into The Blue collection makes turquoise the perfect new-season addition to your wardrobe. From simple studs to statement designs, we've pieced together a collection that promises to take you from a winter sun escape well into the summer sunshine.
It's All About Turquoise
Focusing just on turquoise-colour stones for this collection, each piece encapsulates its stone in a unique way. With a wealth of meaning and symbolism, the colour turquoise continues to be one of our favourite coloured stones to design with at Ania Haie.
While blue stands out this season as a must-have colour to add to any wardrobe, we think the perfect pop of turquoise when it comes to jewellery takes your style to the next level in an instant.
Minimalist Pieces with a Pop of Vibrant Colour
A minimal aesthetic is at the heart of the Into The Blue collection. Without complicated design, each piece allows the stunning pop of turquoise-coloured stones to shine. What better way to add the perfect touch of colour to your spring/summer wardrobe and jewellery collection?
Discover classic and simple pieces, such as our Mini Signet Ring or Turquoise Drop Pendant Necklace. The perfect pieces to wear solo or add to your current layered necklace or ring stack look.
While earrings continue to take centre stage this season, the Into The Blue collection features everything from staple Turquoise Huggie Hoop Earrings to statement Oval Hoop Earrings – the new way to wear hoops.
Style Into The Blue with Your favourite Outfits
Not sure how to wear a flash of bright colour when it comes to your jewellery? A lesson we've learned over the years designing jewellery at Ania Haie is that there are no rules! Love it? Wear it. Wear it solo, stack it up with more, layer it with mix and match metals and colours. The more, the merrier to create your perfect unique look. 
Into The Blue was designed to make adding colour to your everyday easy. So, whether you style our Turquoise Bar Necklace with a simple white t-shirt and jeans or our Turquoise Band Ring with a huge stack of simple bands, make sure you embrace colour for every day and indulge in some chic and luxe gemstones for all your spring looks.
Lift your spirits and brighten your mood every day with a touch of vibrant turquoise-colour from the brand-new Into The Blue collection at Ania Haie. The perfect way to discreetly embrace one of the season's biggest trends, it's all about a pop of vibrant blue styled into your everyday looks this spring and summer.